The Veggie Garden: What Should You Grow?
The Veggie Garden: What Should You Grow?
It'll be here before we know it: garden season!
This year I've noticed a shift in how I'm planning the garden. Back in my shady little city garden I was successful and satisfied to eat backyard salads during the summer months, maybe have enough berries to bake something once or twice during the summer. Aside from my usual short-season tomatoes, scattered herbs and greens, I might splurge on a plant or variety that sounded fun or different.
The first season in a larger space I guess I did that same thing but on a larger scale. Then last year I started planting things I buy more often, or have trouble finding now that I no longer live a couple blocks from Whole Foods or my old favorite co-op.
I realized I had been buying a spaghetti squash every week or two from the grocery store or farmer's market. So I planted a ton of spaghetti squash. We started harvesting and eating them in July when my big, sturdy (!) squash arch started to bend and break under the weight of dozens of squash, and here in February we're still enjoying them weekly but there are about a gazillion still out in the garage . . . so, ok, there's a lesson learned.
Same thing with the tomatoes. I thought I could never have enough tomatoes, and I have literally a freezer full of tomato puree (so fortunate to have lots of freezer space here).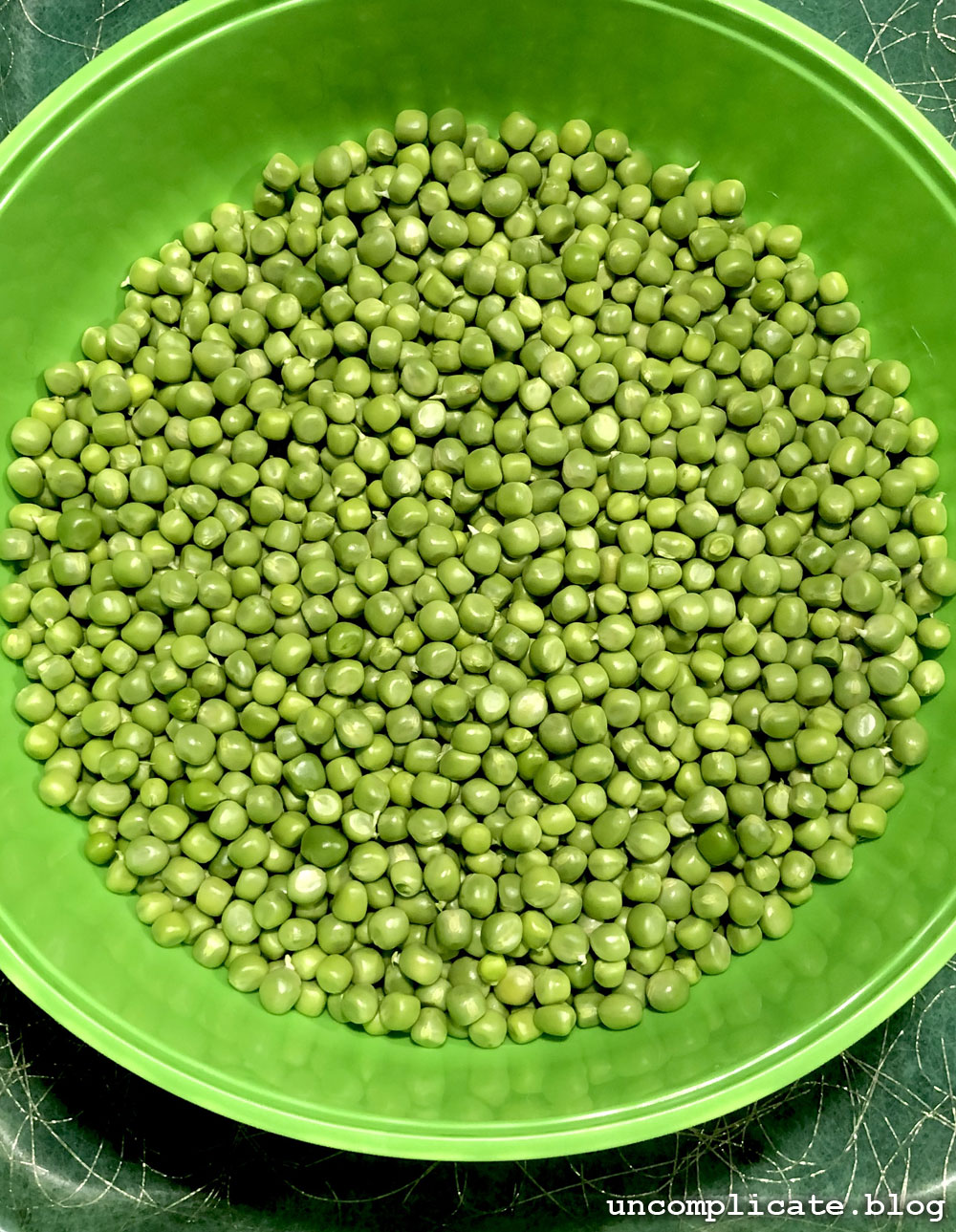 I grew a second crop of peas in the fall but didn't get many from it. I had been freezing shelled peas all summer but I ran out mid-winter and I've been back to buying bags of frozen peas on my monthly shopping trips. I was giddy to have grown my very first crop of potatoes last summer and had a good couple baskets stored away in the fall, but I've been back to store-bought potatoes again. Note to self: grow more peas and potatoes. Right?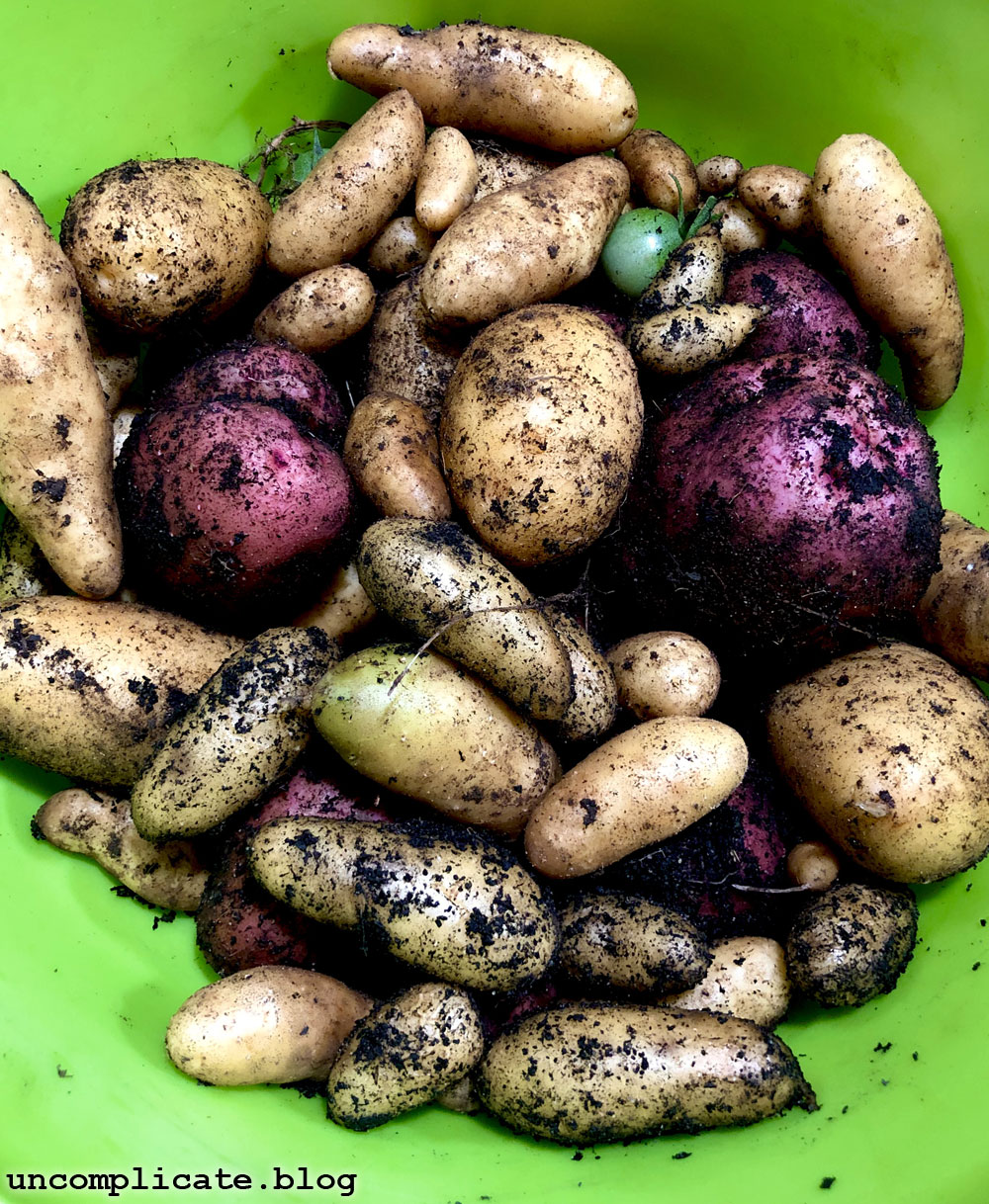 Why haven't I been growing my own cabbage for homemade sauerkraut? I'm still buying grocery store celery: I should be growing that. Dry beans, more string beans, more carrots. I end up buying all of that stuff eventually. We eat a lot of homemade soup during the colder months so I should be growing more of my usual soup ingredients. So many things could occupy some of that space left when growing a few less tomatoes and squash, right?
To me, this feels like some new amazing concept (!) but I realize it's just Beginners Gardening and Homesteading 101: Day 1 Stuff, right? But many of us seasoned gardeners have never really grown this way: thinking like a homesteader or farmer. We've basically been grocery shoppers who grow a few extra things because we like them, or they're fun to grow. It's a definite shift in thinking for many of us and a key step toward living more sustainably.
We've been conditioned to survive as consumers, depending on others for our most basic needs: we run out of something in the pantry or fridge, we get in our car and drive to the store and pick it up. This was totally my life back in the city. Several times a week. I used the excuse that my house was tiny and I didn't have room to keep stuff on hand, plus there were multiple grocery stores and restaurants within a couple blocks. Honestly though, it was just easier to not have to think about stuff until I needed it.
Quarantines and closures this past year forced all of us to rethink the way we shop and eat to some extent, but even as restrictions loosen and life gets back to "normal" we have the opportunity to change our habits for the better.
Growing more of your own groceries doesn't have to be rocket science.
Even if you have limited space for growing or storing year-round, you can become a lot more practical about how you're using your space by thinking about your garden this way. What do you buy a lot of that you could actually grow yourself? Chances are you can fit some of that into existing garden beds or a few more pots on your patio, and extend its usability by utilizing shelves in a cool corner of your garage or basement or even the space in the back of the freezer where that old bottle of vodka is pretending to be a woolly mammoth buried behind a giant ledge of frost.
And along the way, you'll learn what you could use more (or less) of and what crops are really worth your time, energy and space.
It's time to get planning what you'd really like to grow now. What do you buy and eat a lot of that you could be growing? What would be awesome to have in your freezer or pantry next winter? Buy those seeds or make your lists for the spring plant sales in your area.
Start small or go big, either way it's going to be an amazing year!